Fall Inspiration in Knit and Crochet
Whether you're into crafting, knitting or crochet, you're sure to find inspiration in these great designs!
Inspired by the netflix series Marco Polo, this handmade crochet scarf has an interplay of layers and mountainous hues from the exotic regions of the Silk Road. Rusty reddish brown, rich burgundy, raw umber, tan, wheat, and creamy off-white all interlace in a little rocky road pattern of ancient Mongol interweave cubes. Made from 65% Superwash Merino, 25% Nylon, and 10% Donegal Tweed, this scarf is super long for extra ruggedness. It is very lightweight, weather resistant, and cozy warm. The softly variegated texture is silky smooth against your skin, while the rustic autumn colors give it a scraggy and slightly weather beaten look.

Measures: 102 inches long (260 cm) by 7.5 inches wide (19 cm)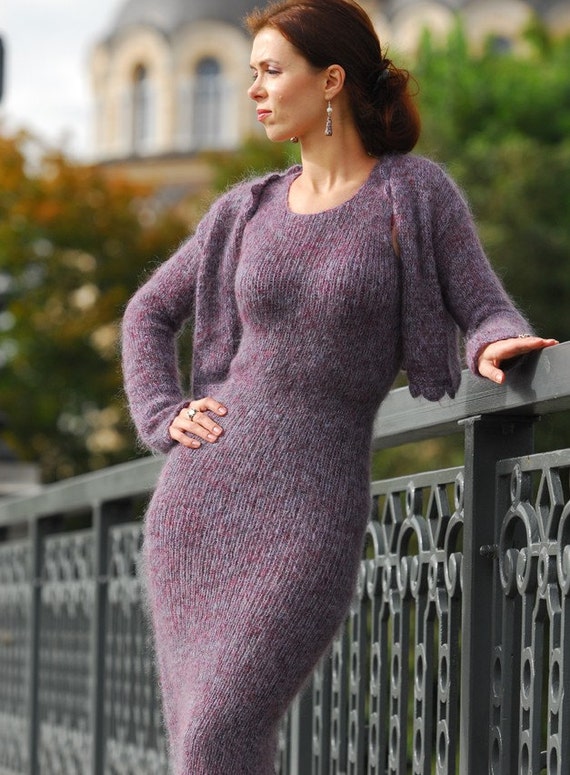 Materials used: kid mohair 70 %, 30 % acrylic.
This dress is the best decision for those who always feel cold and still don't want to look like too much wrapped in clothes.
Painted in autumn shades of rich pumpkin orange, intense fuchsia purple, and faded rose pink, this shimmering fiber bridges summer and autumn with the last vibrant, lustrous color of roses blooming out as pumpkins ripen on the vine. Subtle hints of pale yellow and aubergine offer lovely contrast. Spun to a superbly thick and thin art yarn, the Alpaca, merino and silk blend is luxe and light for summer but makes a warm fall infinity scarf hand crocheted to 28 inches in circumference by 6 inches in width. Wildly beautiful and snuggly soft for fall and winter into spring.

Available by request in a custom size and in a traditional scarf shape as well.
Inspired by the ancient Incan color palette, this Peruvian Highland Wool scarf is an entirely original design handmade by me using a new stitch technique I invented to make it look casual yet elegant all at the same time. Heathered yellow, autumn umber, and smooth turquoise intertwine with gentle hyacinth, plum purple, deep lilac, and midnight navy blue, creating a wavy ripple effect as they spiral around each other softly.
Whether on a wall or a comfy couch, this piece will make a unique addition to a home.
Made from 100% recycled natural materials. Fabrics are all very strong and durable, and were hand dyed in-house with low-impact dyes.
Made to order
This impressive rose gold cuff bracelet is at the same time modern and classic.
The cuff bracelet is double layered, which gives it extra presence and a special glamorous look.

A wide cuff bracelet executed in Rose gold filled, size: 1.9″(4cm), material: 14k rose gold filled wire.
This piece is 8″(20cm) long but can be ordered customized to your wrist size.
This beautiful cowl has an Ombre effect with stunning brown and orange tones. It is large and sure to keep you looking fabulous and staying super warm.

*versatile, can be pulled down over the shoulders, kept high to wear as a cowl and long enough to come over your head to act as a hood.
*custom colors available in chart in last photo, just specify in your order details
*handmade with a soft acrylic/wool blend
*extra warm
*cherry wood "Knittorious" tag attached for authenticity
*made in a pet/smoke free home
*machine wash warm, gentle cycle, lay flat to dry. Do not iron.
*all pieces are made to order and are able to be customized